Leading up to the 2017 NBA Draft, we will be diving into what our Draft Models tell us about this year's top prospects. Our NBA Draft Models include the PNSP Model, NBA Role Probability Model, and Similarity Scores which each provide unique ways of evaluating college prospects. Our Prospect Profiles look at which stats positively/negatively affect NBA projections, unique data points from a player's stats, and relevant comparisons to current NBA players. You can find links to all of our Prospect Profiles in the header menu above (NBA –> NBA Draft –> Prospect Profiles). In the article below, we provide everything our models tell us about Kentucky guard Malik Monk.
Malik Monk | SG | Kentucky | Freshman
Draft Express #8 | Model 284 PNSP #15
Physical Measurements: 6'3″ | 197lbs | Wingspan: 6'3.5″ | Max Vertical: 42″
Top Player Comps: Jamal Murray, Randy Foye, O.J. Mayo
| | | | | | | |
| --- | --- | --- | --- | --- | --- | --- |
| School | Age | PTS/40 | TRB/40 | AST/40 | STL/40 | BLK/40 |
| Kentucky | 19.4 | 24.8 | 3.1 | 2.9 | 1.2 | 0.6 |
Model 284
Ratings
PNSP
All-Star %
Starter %
Bench %
Non-NBA %

77.1

 8.9%

 48.8%

 34.0%

 8.7%
If you hadn't heard of Malik Monk before, chances are you started hearing his name following his 47-point performance in a shootout win over future champion UNC, where he lit it up on 18-28 (64%) shooting, including 8-12 (67%) from three. Fast forwarding to mock draft season, Monk is being projected all over the top-10, with rumors that the 76ers love him (who pick third) and other mocks projecting him closer to the bottom of the top-10. While Monk's PNSP rating of 77.1 ranks only 15th among this year's draft class, there is a lot to like about Monk's fit in today's NBA.
Monk's player comps from our Similarity Score Tool provide a mixed bag of players who had solid NBA careers and players who did not make it in the NBA (and some TBD). However, all 10 players have a similarity score above 98.5, and thus provide solid data points for us to measure Monk against. Below Monk's top-10 player comps, we have highlighted a few notable players and their NBA 3-point percentage, points per 36 minutes, player efficiency rating, and offensive/defensive box plus/minus: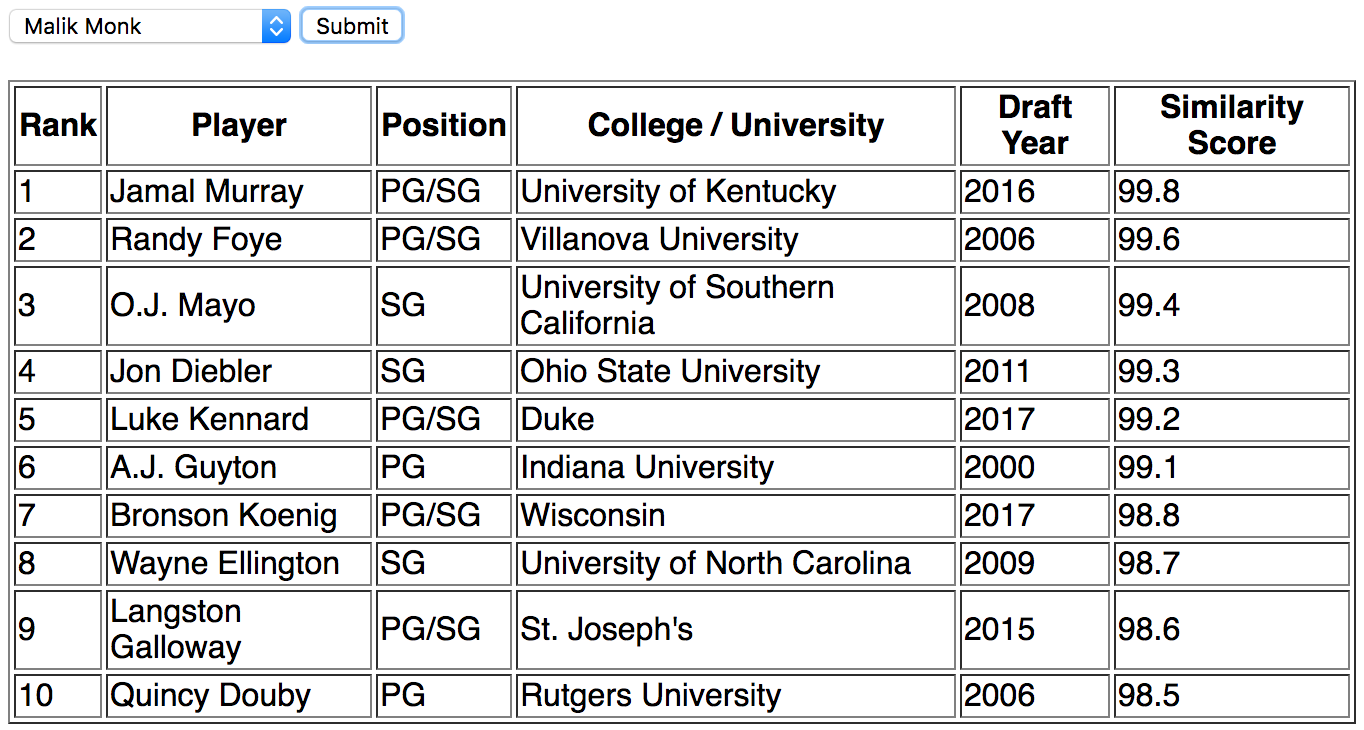 | | | | | | |
| --- | --- | --- | --- | --- | --- |
| Player | 3P% | PTS/36 | PER | OBPM | DBPM |
| Jamal Murray | 33.4% | 16.6 | 11.9 | -0.5 | -2.1 |
| Randy Foye | 36.6% | 14.4 | 12.0 | 0.3 | -1.6 |
| O.J. Mayo | 37.3% | 16.1 | 13.4 | 0.5 | -1.3 |
| Wayne Ellington | 37.7% | 13.4 | 10.8 | -0.6 | -2.1 |
| Langston Galloway | 36.6% | 12.6 | 11.5 | -0.5 | -0.8 |
Monk's NBA Role Probabilities point to a very small chance that he is a bust, with his non-NBA probability of just 8.7% ranking 4th lowest in this year's class. The bulk of Monk's role projection falls in the middle of the spectrum, with high probabilities of becoming a starter or bench player in the NBA (Monk's starter probability of 48.8% is 8th highest in the class). This "high floor" career projection is driven by his strong high school recruiting ranking (RSCI #9 in 2016), elite athleticism, and good shooting.
On the downside, Monk also has a lower All-Star probability at 8.9% (ranking 33rd in this year's class). This is driven by the fact that Monk did not have any consistently elite production in college. Most of Monk's box-score stats fall close to the middle of the pack, other than his shooting, and while he had very good marks there, his 82% on free-throws and 40% on 3-pointers were not out of this world. For context, last year Buddy Hield shot 88% on FTs and 46% on 3s. Monk's free throw and 3-point percentages are noted in the plot below with a black dot, comparing him to other guards/wings with 80 or more 3-point attempts in a season:
Though our models do not view Monk with much upside, it is noteworthy that Stephen Shea's CPR model loves Monk, giving him the highest mark in this year's draft class. While the CPR model and our PNSP model have the same goal, they have very different methodologies, including the fact that the CPR model is built off of each player's top-10 performances rather than all of their games. Monk had 10 games this year where he hit 5 or more 3-pointers, so he will do well under that criteria. It is possible that Monk's upside is being underestimated by our models due to his inconsistent play throughout the year.
Digging into Monk's NBA box-score projections, he projects very well in points scored and free-throw percentage, which does not come as a surprise. He also projects as a good, but not great, 3-point shooter in terms of both volume and accuracy. Our models project Monk below average for a guard in terms of rebounds, steals, and blocks. Though Monk's block projection is limited by his below average size and length, Monk did have a solid 1.5% block percentage this year, which is a good sign of his athleticism (Monk had a total of 19 blocks compared to De'Aaron Fox's 7). Contributing to these poor projections are his low defensive rebound and assist percentages at Kentucky (as highlighted in the plot below). Monk's defensive rebound percentage of 7.2% is the second lowest among guards in this year's class.
Conclusion
Overall, our models view Malik Monk as a solid-not-spectacular prospect and see him having a starting or bench role in the NBA, making great contributions as a scorer. Every team wants more shooters these days, so it would be surprising to see Monk fall outside the top-10 on draft night.