Leading up to the 2018 NBA Draft on June 21st, we will be using our NBA Draft Models (PNSP Model, Role Probability Model, and Similarity Scores) to investigate this year's top prospects. These Prospect Profiles look at which stats affect NBA projections, present unique data points from a player's stats, and give relevant comparisons to current NBA players. You can find all of our Prospect Profiles here or through the header menu above (NBA –> NBA Draft –> Prospect Profiles). In today's article, we look at Robert Williams
Robert Williams

|

C

|

Texas A&M
#17 Model 284 PNSP Rank
#12 ESPN Rank
Age: 20.5
Physical Measurements: 6'9″ | 237 lbs | Wingspan: 7'5.5″
Notable Player Comps: Joel Embiid | Emeka Okafor | Tyrus Thomas
School
PTS/40
TRB/40
AST/40
STL/40
BLK/40
TX A&M
 16.2
 14.4
 2.2
1.2
 4.1
Model 284
Ratings
PNSP
All-Star %
Starter %
Bench %
Non-NBA %
72.8
24%
43%
20%
13%
Robert Williams was an excellent defender and rebounder at Texas A&M. Although he doesn't have great height as an NBA Center, he makes up for it with a very long wingspan (7'5.5″), elite leaping ability, and an innate feel for the game. Williams was excellent at meeting opponents at the rim and jumping straight up to challenge or block a shot. He also used his length well in rebounding – snagging an impressive 14.4 rebounds per 40 minutes.
Draft Model Projections
Williams's PNSP of 72.8 puts him 17th overall in this year's draft class. He ranks behind other highly touted big men Jaren Jackson Jr, Deandre Ayton, Mo Bamba, Wendell Carter Jr. and Marvin Bagley III. Our role probability model likes Williams's outlook a bit more than PNSP. His All-Star probability of 24% is the 11th highest mark in the draft, and his Non-NBA probability is the 13th lowest overall at 13%. Our models don't project Williams to be in the same tier as the handful of elite big men at the top of the draft mostly due to his smaller frame at 6'9″, lack of offensive production/shooting, and his lower ranking as a high school recruit (RSCI #51). However, his athleticism and defensive production were undeniable at Texas A&M, and this is what has vaulted Williams into a likely first-round draft pick.
Defense
Williams's leaping ability and height made him an excellent shot blocker in college. In his sophomore season, he recorded 2.6 blocks per game at 25.6 minutes per game, logging a block percentage of 10.4%. Rebounding was another strong aspect of Williams's game in college. He chased rebounds with impressive grit and tenacity, averaging 9.2 rebounds per game with a total rebound percentage of 18.9%. The combination of an 18.9% rebound percentage and 10.4% block percentage puts Williams in impressive company. Below is a list of other recent prospects who recorded 18%+ rebound percentage and 10%+ block percentage:
It is important to note that Robert Williams is nowhere near the level of prospect as Embiid/Davis, but he did post defensive numbers that are comparable to these elite centers. Our models project him to be well above average in blocks and rebounds at his position in the NBA. Another good indication of Williams's defense is his steal percentage of 1.8% in his sophomore season. While this isn't an eye-popping number, it is quite good for a Center, and our models project Williams to be above average at generating steals in the NBA.
Limited Offense
If Williams excelled on offense as much as he did on defense he would likely be in the conversation as a potential top-five pick. Unfortunately, he did not showcase a very impressive offensive skill set in college. He averaged 10.4 points per game in his sophomore season on just 7.3 attempts per game. It is worth noting that Williams played both of his college seasons alongside Tyler Davis – another big inside presence who made A&M's spacing extremely crowded. At the very least, it will be interesting to see how Williams fares in a modern NBA lineup with better spacing.
Williams was very good near the basket; according to hoop-math he converted 84% of his attempts at the rim. Outside of shots at the rim, however, Williams wasn't able to shoot effectively. He made 40% of his mid-range attempts, and shot a horrible 47% from the free throw line. This free throw percentage is low enough where we may see opponents implement a hack-a-Williams strategy in close games. His poor free throw percentage is also giant red flag that suggests Williams is unlikely to develop a reliable jump shot in the NBA. Over his two years at Texas A&M, he attempted 30 three-pointers and made just two of them (it is possible that a good number of these came as end of half heaves). It comes as no surprise that our models project Williams to be below average in scoring and well below average in free throw shooting. The silver lining is that he seems to know his role and rarely tries to force the issue on offense. Williams seems to be the type of player who is content to fill up his stat sheet with blocks, steals and rebounds.
Player Comparisons
I think it's safe to say that Williams would be quite happy to see that his top player in similarity score is Joel Embiid. After Embiid there are some other former big-time prospects on the list like former lottery picks Emeka Okafor, Tyrus Thomas, Andrew Bogut, Elton Brand, and Hasheem Thabeet. Almost all of these players were highly touted defensive centers who staked their career on protecting the rim. Keep in mind that our similarity scores refer to style of play and not necessarily ability. Williams is unlikely to reach the All-Star level of Embiid or Elton Brand due to his limitations on offense, but this is a great list of players for a defensive center to be compared to.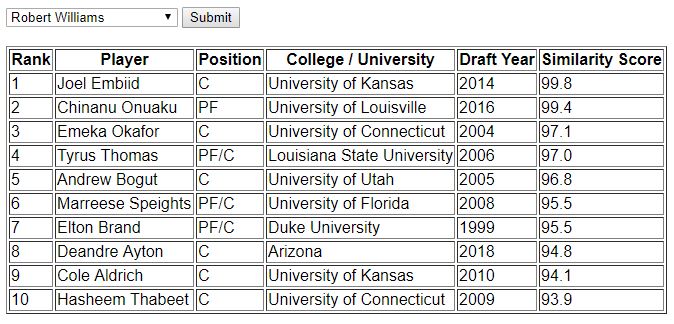 Conclusion
Robert Williams doesn't project to provide much on offense outside of dunks and layups, but he has the makeup of a strong defensive center. Fortunately for Williams, defense and rim protection is still a very valuable trait for NBA Centers. Our role probability model likes Williams's chances to make it in the NBA as a starter. In a best-case scenario, Williams could serve a role similar to that of Clint Capela – a high energy player who provides good defense and rebounding while staying in his lane on offense.