Leading up to the 2017 NBA Draft, we will be diving into what our Draft Models tell us about this year's top prospects. Our NBA Draft Models include the PNSP Model, NBA Role Probability Model, and Similarity Scores which each provide unique ways of evaluating college prospects. Our Prospect Profiles look at which stats positively/negatively affect NBA projections, unique data points from a player's stats, and relevant comparisons to current NBA players. You can find links to all of our Prospect Profiles in the header menu above (NBA –> NBA Draft –> Prospect Profiles). In this article, we look at the highly touted Jayson Tatum.
Jayson Tatum | SF/PF | Duke | Freshman
Draft Express #4 | Model 284 PNSP #6
Physical Measurements: 6'8.25″ | 201lbs | Wingspan: 6'11"
Top Player Comps: Luol Deng, Wilson Chandler, Justise Winslow
| | | | | | | |
| --- | --- | --- | --- | --- | --- | --- |
| School | Age | PTS/40 | TRB/40 | AST/40 | STL/40 | BLK/40 |
| Duke | 19.3 | 20.2 | 8.8 | 2.6 | 1.6 | 1.4 |
Model 284
Ratings
PNSP
All-Star %
Starter %
Bench %
Non-NBA %

88.6

 17.6%

 58.8%

 14.6%

 9.0%
Duke product and former top 5 RSCI ranked Jayson Tatum has a strong physical build at 6'8.25″ with a 6'11" wingspan. While Duke as a team severally underperformed this season, Tatum met and exceeded expectations by showcasing the ability to consistently knock down 3-point shots and provide better than expected defense. Tatum shot 34.2% from 3 on 117 attempts along with, perhaps, more importantly, 84.9% from the free throw line on 139 attempts. For a glimpse of players with similar advanced metrics in college, the table below shows players that shot better than 80% from the free throw line, had a defensive rebound percentage and assist percentage greater than 15% and 10%, respectively, and a steal and block percentage greater than 2%:
The players above are all 3-point shooting Forwards that are plus defenders, rebounders, and playmakers. Tatum's defensive contributions are part of the reason PNSP is high on Tatum, as it predicts Tatum to be a better than average defender at his position. In addition to providing above average defense, Tatum projects to provide slightly above-average rebounding, shooting, and playmaking. Overall, Tatum projects as a plus player all-around at the small forward / power forward position.
From our NBA Role Probability Model, Tatum has the highest probability of being an NBA starter among the 2017 class at 58.5%. For a glimpse of other players who had a high PNSP and starter probability, the table below displays players with a starter probability greater than 50% and a PNSP rating greater than 85:
While some of the players above have had all-star stints (i.e. Noah and Gay), none are superstars (but they did spend most of their respective careers as starters). Contrary to the Carmelo Anthony comparisons and superstar hype, our models project Jayson Tatum as a starter or very good role player in the NBA. The list of players below provides examples of player comps from our similarity score tool that takes into account complete box score statistics, age, strength of schedule, and physical measurements: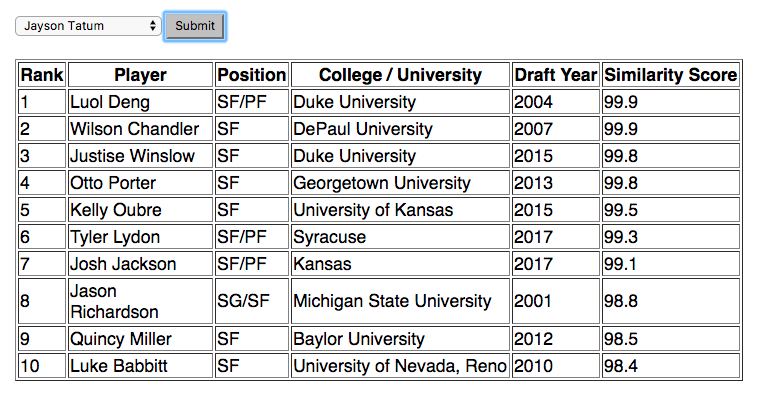 These player comps provide further evidence for Jayson Tatum fitting the starter or high-level role player in the NBA. Nonetheless, most of these players have shown the ability to provide 3-point shooting, defense, and some level of playmaking. Additionally, Tatum's top 5 player comps have played the 3 and at least some small-ball 4 in the NBA (Luol Deng, Wilson Chandler, Justise Winslow, Otto Porter and Kelly Oubre).
All things considered, our Models project Tatum as a player with a high floor but somewhat capped ceiling. Based upon his top player comps and physical profile, he should be able to spend time at both the 3 and small-ball 4 in the NBA. With that, Tatum appears to be classified as a so-called "safe" pick in the top half of the lottery.