If you are a frequent reader of Model 284, you can recall we did a sentiment analysis on 2018 NBA Draft Prospects based on scouting reports at The Stepian and NBADraft.com. For those that are unaware, sentiment is a form of NLP (Natural Language Processing) or more formally defined as "the process of computationally identifying and categorizing opinions expressed in a piece of text, especially in order to determine whether the writer's attitude towards a particular topic, product, etc., is positive, negative, or neutral." Using Professor Bing Liu's graded sentiment dictionary, we can analyze text to and identify who is more positively written about. For more information, please read our My Model Monday series article.
In order to cast a wider web, we scrapped a wider base of text on this year's cohort of prospects. To do so, we pulled prospect analysis from NBA Draft analysts at ESPN, The Athletic, Twitter, and The Stepian. Pulling scouting reports from ESPN and The Athletic functioned similarly to the Stepian, but Twitter is a bit of a different animal. Twitter has a user-friendly API that allows an individual to pull tweets from specific users and parse them for commentary and analysis on NBA Draft Prospects. We identified the following NBA Draft-centric Twitter users to be used in this analysis:  ColeZwicker, DraftExpress, MikeSchmitz, SamVecenie, Deanondraft, kpelton, NBADraftWass, neilmjohnson, pesquerj, advancedstats23, jacksonghoy, mikegrib8, thecity2, JacobEGoldstein,  Ben_Prefiier_,  rosshoman1, and cstonehoops. While we don't necessary care whether or not these twitter users actually provide insightful/accurate takes on prospects, this sample should give us a good representation of what "Draft Twitter" thinks of certain prospects.
As a quick refresher, sentiment is simply the number of positive words less the number of negative words, and then sentiment rate is sentiment divided by the number of words. We look at sentiment rate to control for the differing number of words written on each prospect. Below are the overall results for this year's prospects that had over 2,000 applicable words written on them: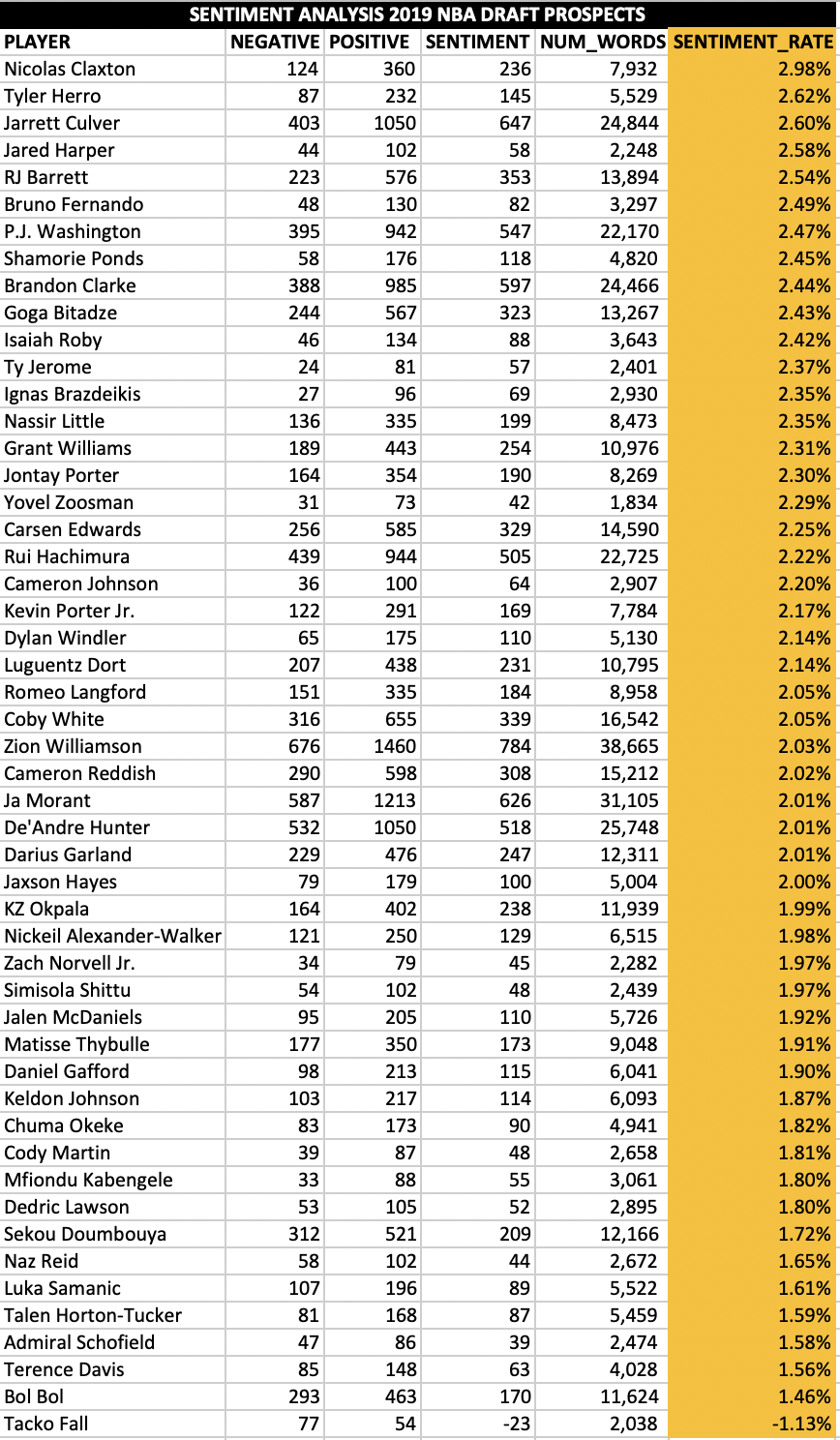 Draft twitter, namely, Sam Vecenie and Cole Zwicker, have been pumping the Nic Claxton train recently, making it no surprise to see Claxton atop the rankings. Sharpshooter Tyler Herro also makes the list with shooting becoming a bigger and bigger part of the modern NBA game. Draft analysts seem more skeptical of the freakish length of Bol Bol and Tacko Fall. Given that international prospects are seemingly always controversial, it is no surprise to see Sekou Doumbouya and Luka Samanic at the bottom of the ranks.
It can also be interesting to simply look at which prospects have the most words written on them. Below are the Top 10 prospects in terms of number of words written: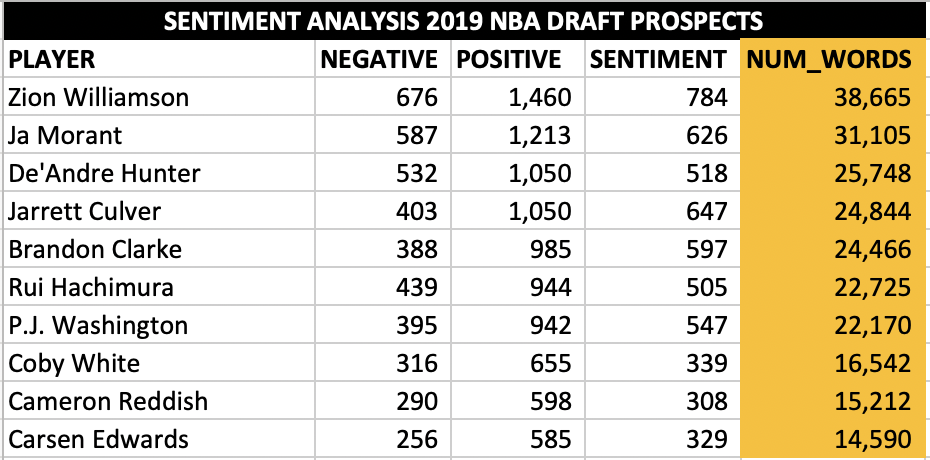 Zion Williamson and Ja Morant come out as by far the most commented-on prospects this year. Analytics and Draft Twitter darling Brandon Clarke makes the top 5 in written words, while consensus top 3 pick RJ Barrett ranks outside the top 10. Texas Tech and Virginia made deep tournament runs which created additional viewing time on the biggest stage for their top prospects. I would guess that number of march madness games played and number of words written on prospects are correlated.
The next question is: which prospect is each analyst highest on? Unsurprisingly, mostly everyone's top prospect is Zion Williamson; therefore, we removed Zion for this analysis. Using tweets only, below are the players each twitter user had the highest sentiment on: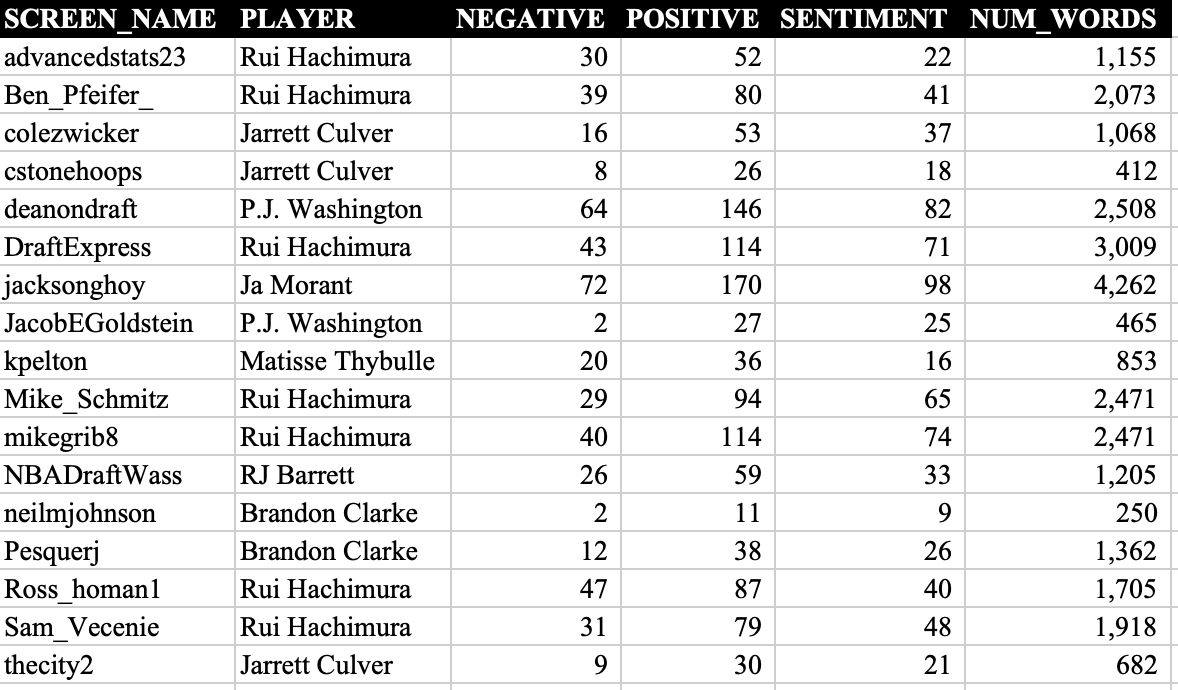 Interestingly, Gonzaga Forward Rui Hachimura shows up the most. Sam Vecenie has always had positive things to say about Rui along with ESPN analysts Jonathan Givony (DraftExpress) and Mike Schmitz. Deanondraft has had generally had positive comments on PJ Washington such as the below:

Kpelton's "favorite" prospect is University of Washington NCAA all-time steals leader Matisse Thybulle. Kpelton's twitter location is Seattle, Washington, so some hometown bias might be coming into play here.
Now, flipping the question: who does each analyst have the least amount of Sentiment on?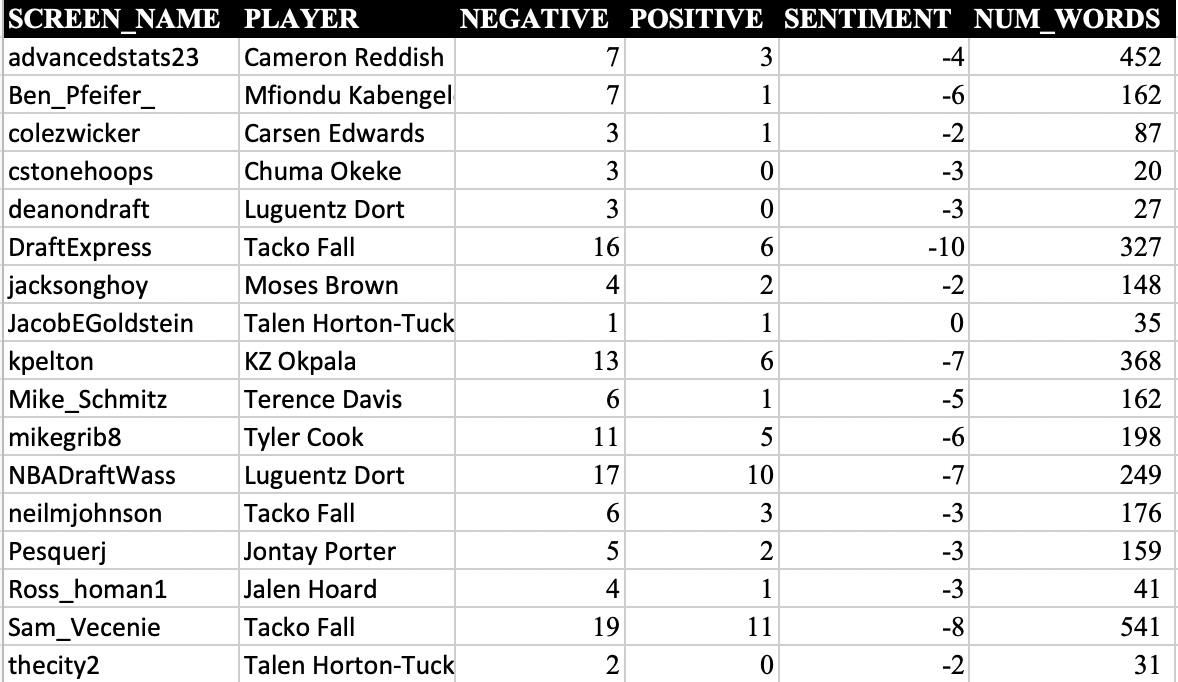 Interesting to see a projected lottery player Cameron Reddish show up as twitter user advancedstats23's bottom sentiment prospect. Although Reddish has provided some interesting conversation as to how he will translate to the NBA, our PNSP Draft Model is low on him as well. Sad to see cstonehoops low on Model favorite and Auburn alum Chuma Okeke.
To this point, there has not been any evidence (across professional sports) that suggests positive sentiment has any predicted ability of a player's NBA success. The Ringer analyzed MLB Scouting reports and showed no predictive power. Additionally, our limited analysis last spring showed similar results for the NBA. Despite that, we believe there is definitely  more work to be done and insights to be gained from this type of analysis.
Before you go, here is a fun word cloud displaying the most commonly used words across twitter and scouting reports.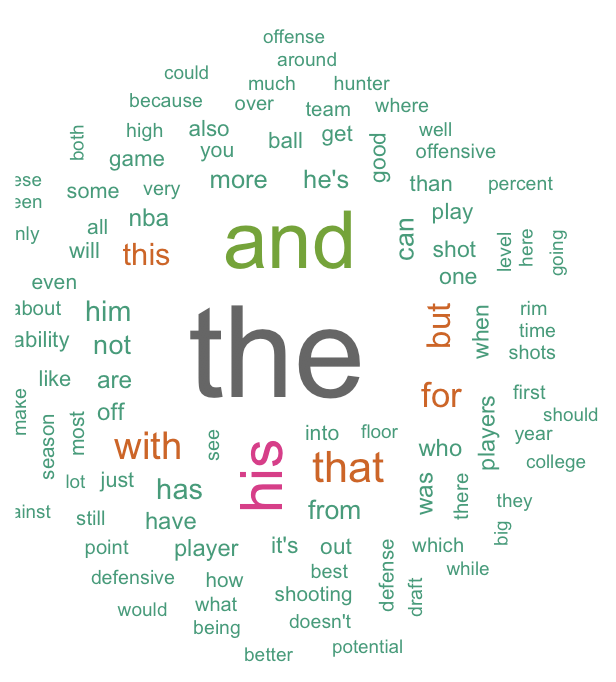 As the draft nears, surely more and more words will be written on these prospects, so stay tuned as we will continue to update these to keep a pulse on the sentiment Draft Twitter puts on these prospects.