Leading up to the 2018 NBA Draft on June 21st, we will be using our NBA Draft Models (PNSP Model, Role Probability Model, and Similarity Scores) to investigate this year's top prospects. These Prospect Profiles look at which stats affect NBA projections, present unique data points from a player's stats, and give relevant comparisons to current NBA players. You can find all of our Prospect Profiles here or through the header menu above (NBA –> NBA Draft –> Prospect Profiles). In today's article, we look at Mohamed Bamba.
Mohamed Bamba
|

C

|

Texas

#6 Model 284 PNSP Rank
#3 ESPN Rank
Age: 20.0
Physical Measurements: 7'0″ | 226 lbs | Wingspan: 7'10"
Notable Player Comps: Joel Embiid | Anthony Davis | Hassan Whiteside
School
PTS/40
TRB/40
AST/40
STL/40
BLK/40
Texas
17.1
14.0
0.7
1.0
4.9
Model 284
Ratings
PNSP
All-Star %
Starter %
Bench %
Non-NBA %
84.2
50%
35%
5%
10%
Mo Bamba, the monster big man out of Texas, sports the biggest wingspan in the history of the NBA Combine at 7-10, while possessing some impressive athleticism/mobility for a big man, and finished efficiently around the rim. Case closed, he is the next Hakeem Olajuwon, right? While Bamba is quite the physical specimen and has promising NBA potential, he has some things to clean up in his game before he can thrive as an NBA big man.
Strengths on the Inside
Bamba's strengths focus on his play around the rim, where he utilizes his length extremely well as a rebounder, rim protector, and finisher. Bamba showed good defensive instincts, especially in terms of blocks, which comes out in his stats. He finished #3 in the NCAA in BLK% at 13%, #12 in TRB% at 20%, and #7 in DBPM at 8.9 (interestingly, he did trail Jaren Jackson Jr. in both BLK% and DBPM). By our models, Bamba projects as an above average rebounder and a very good rim protector for an NBA big man. He also projects well in steals, further indication that he should be a good defensive NBA big man. He appears to have the quickness and athleticism to switch onto perimeter players.
He was efficient on inside shots (77% at the rim, ranking in the 88th percentile among NCAA bigs per Will Schreefer), often converting with ease over the top of hopeless defenders. Though, he did not take a lot of shots and only averaged 12.9 PTS/G. He also flashed the ability to play in transition and drive to the hoop at times, which would be exciting pieces to build on at the next level. Our models project Bamba to be average for a big man in terms of inside scoring and scoring in general – meaning they don't see him taking on a higher volume scoring role in the NBA.
Work in Progress
While Bamba profiles as a modern NBA center just via the skills outlined above, there are still some questions about the other areas of his game and his upside in the NBA:
To start, Bamba showed inconsistent effort and did not look engaged at times during his Freshman season at Texas, which he'll need to improve on if he is going to anchor a defense in the NBA.
Not a great passer or decision maker with the ball (0.7 AST/40). Bamba projects below average in terms of assists for an NBA big.
Though he profiles as a strong rim protector, he was not a strong interior defender against other bigs in college. Further, as we mentioned in the previous section, while he was an efficient scorer, he did not score at a high volume inside and was not as dominant of a presence as you'd hope for someone of his size. He'll need to add strength to his frame to hold his own against stronger bigs in the NBA.
In college, Bamba's FG% was below average in the mid-range and on 3-pointers among NCAA big men. He shot just 27.5% on 51 three-point attempts but showed a willingness to pull the trigger and has reportedly been working on his 3-point shot. He should space the floor well if he can develop that outside shot, but it is still very much a work in progress.
Draft Model Projections
Bamba's 84.2 PNSP ranks 6th in this year's draft class (4th among bigs). He holds the 3rd highest All-Star Probability at 50% (2nd among bigs), while also having a higher Non-NBA probability (10%) than the other top bigs, articulating more of a boom-bust mold for the Texas big man. Here are how Bamba's predictions compare to the other top bigs in this year's draft class:

JJJ is basically the thing people want Bamba to be minus 5 inches of wingspan but plus better mobility/reactions. https://t.co/2W1GyLaPjF

— Chris Stone (@cstonehoops) June 13, 2018
It is worth noting that Bamba is old for a freshman at 20 years old, and a year + older than Jaren Jackson Jr. (18.6), Marvin Bagley III (19.1), and Wendell Carter Jr.(19.0). Here are the historical bigs with similar PNSP & Role Probability projections to Bamba:
Some All-Stars pop up in Bamba's Similarity Scores, really the best comparisons you could ask for in Joel Embiid and Anthony Davis. The comps that have played multiple NBA seasons are good inside scorers, rebounders, and shot blockers, with some having a larger NBA role than others. Davis is the only one who has proven to be a plus NBA 3-point shooting big man, though Zach Collins and Wendell Carter Jr. could get there eventually. All in all, a promising group of comparisons that provide some comfort around Bamba's wide range of outcomes.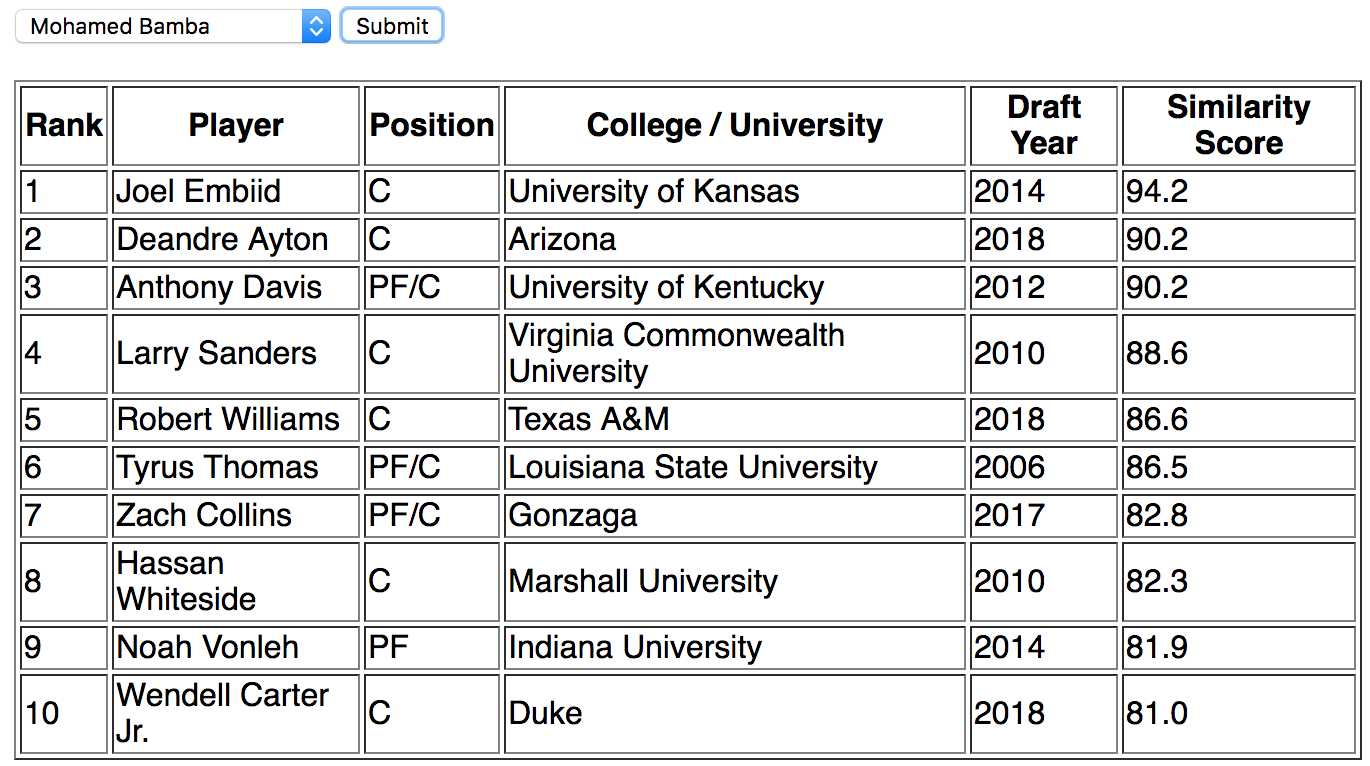 Conclusion
Ultimately, our models see Bamba having success in the NBA, especially as a rim protector and rebounder. Bamba has the potential to be a versatile big offensively and defensively, but his immediate offensive contributions will be limited, and there are areas to prove himself on defense as well.
Putting aside those TBDs, Bamba does profile well for the modern NBA and should, in theory, be able to switch 1-5, protect the rim, and space the floor, serving as the centerpiece for his team's defense. Bamba may never be a dominant inside player on offense, but that probably isn't the skill teams are most focused on when drafting their bigs in today's NBA. Interestingly, this is somewhat the opposite of Deandre Ayton, who projects very well as a scorer, but his defensive outlook is not positive. Bamba and Jaren Jackson Jr. project as good NBA rim protectors, whereas current top two projected picks Ayton and Bagley do not. Which indicates that some NBA teams still appear willing to value their offensive skills over defense and rim protection. We'll see how the top bigs shake out come draft night.