FOOTBALL IS FINALLY BACK! And since there is such a shortage of Fantasy Football content out there, we thought we needed to give the people some material to prepare for their drafts. The following rankings are loosely based on model predictions for each position, which use historical player/team data to predict fantasy points for the coming season (i.e., separate models for QB, RB, WR, TE, K, DST). That said, there are plenty of factors that any model will have trouble capturing perfectly (injury status, team depth charts, suspensions, QB/Coach changes, etc.), and thus we have made some subjective adjustments to the rankings where necessary. For example, if a model weighs last year's cumulative statistics too heavily, Odell Beckham Jr. is not going to come out very high since he only played 4 games. Our rankings can be found below, along with a short description of the model we used for each position. All rankings reflect PPR scoring.
To download our rankings, click here
Running Backs – our RB model uses a similarity score method. For each player, it finds past RBs with similar historical point totals, then uses their outcomes to predict that player's points for 2018, while adjusting for player age.
Wide Receivers – this is a composite model built on a combination of prior year, two years ago, and career average statistics. The best predictors of future fantasy points at the WR position are yards, career fantasy points, age, and market share. Surprisingly, prior year yards are just as predictive as prior year fantasy points.
Quarterbacks – we use a simple regression-based model that incorporates individual Quarterback statistics and team-level variables such as margin of victory and wins, with an interaction between the two. Given the simple model methodology, front end adjustments are made to individual Quarterback statistics in cases where they have not played enough games, switched teams/coaches, or are returning from injury.
Tight Ends – our TE model is built on a combination of receptions plus targets, receiving yards, and snap counts. While adjusting for age, our TE model also makes use of each player's highest scoring games, subject to a minimum and maximum amount of games played.
Kickers – our kicker model uses prior season statistics, career averages, and team offensive stats (prior season). The strongest predictors of Kicker fantasy points are prior season fantasy points, field goal attempts, team points scored, and first down conversions.
Team Defenses – defensive fantasy scoring is especially difficult to predict, mainly because the scoring isn't driven by yardage, but, rather, by turnovers and sacks, which are less predictable. We found that using data from the prior 3 seasons is more predictive than using just last year. The most predictive stats were fantasy points (last 3 years), passing yards allowed (last 3 years), and this year's Vegas win total.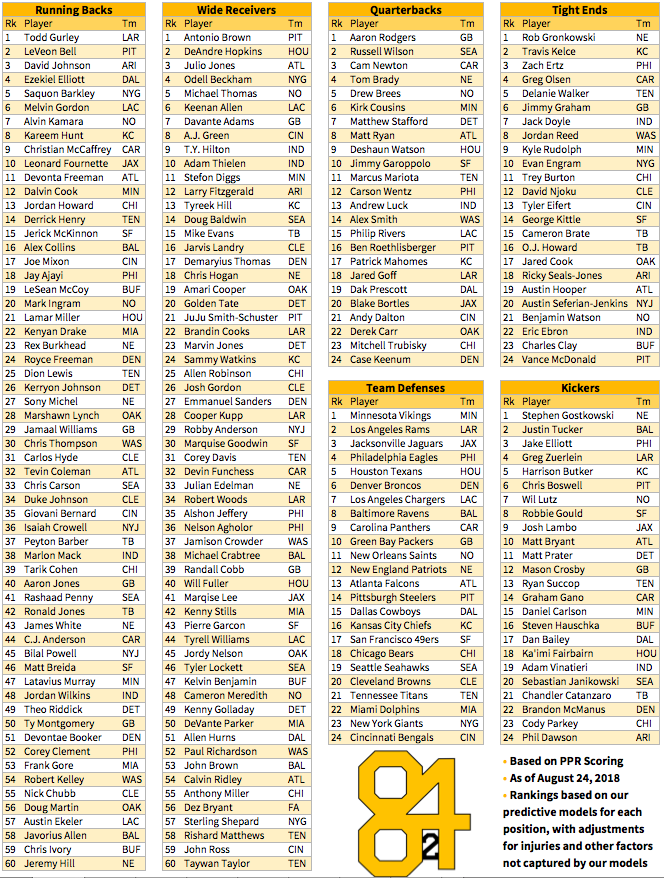 Pos
Rank
Player
Pos
Tm
Bye
1
Todd Gurley
RB
LAR
12
2
LeVeon Bell
RB
PIT
7
3
David Johnson
RB
ARI
9
4
Ezekiel Elliott
RB
DAL
8
5
Saquon Barkley
RB
NYG
9
6
Melvin Gordon
RB
LAC
8
7
Alvin Kamara
RB
NO
6
8
Kareem Hunt
RB
KC
12
9
Christian McCaffrey
RB
CAR
4
10
Leonard Fournette
RB
JAX
9
11
Devonta Freeman
RB
ATL
8
12
Dalvin Cook
RB
MIN
10
13
Jordan Howard
RB
CHI
5
14
Derrick Henry
RB
TEN
8
15
Jerick McKinnon
RB
SF
11
16
Alex Collins
RB
BAL
10
17
Joe Mixon
RB
CIN
9
18
Jay Ajayi
RB
PHI
9
19
LeSean McCoy
RB
BUF
11
20
Mark Ingram
RB
NO
6
21
Lamar Miller
RB
HOU
10
22
Kenyan Drake
RB
MIA
11
23
Rex Burkhead
RB
NE
11
24
Royce Freeman
RB
DEN
10
25
Dion Lewis
RB
TEN
8
26
Kerryon Johnson
RB
DET
6
27
Sony Michel
RB
NE
11
28
Marshawn Lynch
RB
OAK
7
29
Jamaal Williams
RB
GB
7
30
Chris Thompson
RB
WAS
4
31
Carlos Hyde
RB
CLE
11
32
Tevin Coleman
RB
ATL
8
33
Chris Carson
RB
SEA
7
34
Duke Johnson
RB
CLE
11
35
Giovani Bernard
RB
CIN
9
36
Isaiah Crowell
RB
NYJ
11
37
Peyton Barber
RB
TB
5
38
Marlon Mack
RB
IND
9
39
Tarik Cohen
RB
CHI
5
40
Aaron Jones
RB
GB
7
41
Rashaad Penny
RB
SEA
7
42
Ronald Jones
RB
TB
5
43
James White
RB
NE
11
44
C.J. Anderson
RB
CAR
4
45
Bilal Powell
RB
NYJ
11
46
Matt Breida
RB
SF
11
47
Latavius Murray
RB
MIN
10
48
Jordan Wilkins
RB
IND
9
49
Theo Riddick
RB
DET
6
50
Ty Montgomery
RB
GB
7
51
Devontae Booker
RB
DEN
10
52
Corey Clement
RB
PHI
9
53
Frank Gore
RB
MIA
11
54
Robert Kelley
RB
WAS
4
55
Nick Chubb
RB
CLE
11
56
Doug Martin
RB
OAK
7
57
Austin Ekeler
RB
LAC
8
58
Javorius Allen
RB
BAL
10
59
Chris Ivory
RB
BUF
11
60
Jeremy Hill
RB
NE
11
1
Antonio Brown
WR
PIT
7
2
DeAndre Hopkins
WR
HOU
10
3
Julio Jones
WR
ATL
8
4
Odell Beckham
WR
NYG
9
5
Michael Thomas
WR
NO
6
6
Keenan Allen
WR
LAC
8
7
Davante Adams
WR
GB
7
8
A.J. Green
WR
CIN
9
9
T.Y. Hilton
WR
IND
9
10
Adam Thielen
WR
MIN
10
11
Stefon Diggs
WR
MIN
10
12
Larry Fitzgerald
WR
ARI
9
13
Tyreek Hill
WR
KC
12
14
Doug Baldwin
WR
SEA
7
15
Mike Evans
WR
TB
5
16
Jarvis Landry
WR
CLE
11
17
Demaryius Thomas
WR
DEN
10
18
Chris Hogan
WR
NE
11
19
Amari Cooper
WR
OAK
7
20
Golden Tate
WR
DET
6
21
JuJu Smith-Schuster
WR
PIT
7
22
Brandin Cooks
WR
LAR
12
23
Marvin Jones
WR
DET
6
24
Sammy Watkins
WR
KC
12
25
Allen Robinson
WR
CHI
5
26
Josh Gordon
WR
CLE
11
27
Emmanuel Sanders
WR
DEN
10
28
Cooper Kupp
WR
LAR
12
29
Robby Anderson
WR
NYJ
11
30
Marquise Goodwin
WR
SF
11
31
Corey Davis
WR
TEN
8
32
Devin Funchess
WR
CAR
4
33
Julian Edelman
WR
NE
11
34
Robert Woods
WR
LAR
12
35
Alshon Jeffery
WR
PHI
9
36
Nelson Agholor
WR
PHI
9
37
Jamison Crowder
WR
WAS
4
38
Michael Crabtree
WR
BAL
10
39
Randall Cobb
WR
GB
7
40
Will Fuller
WR
HOU
10
41
Marqise Lee
WR
JAX
9
42
Kenny Stills
WR
MIA
11
43
Pierre Garcon
WR
SF
11
44
Tyrell Williams
WR
LAC
8
45
Jordy Nelson
WR
OAK
7
46
Tyler Lockett
WR
SEA
7
47
Kelvin Benjamin
WR
BUF
11
48
Cameron Meredith
WR
NO
6
49
Kenny Golladay
WR
DET
6
50
DeVante Parker
WR
MIA
11
51
Allen Hurns
WR
DAL
8
52
Paul Richardson
WR
WAS
4
53
John Brown
WR
BAL
10
54
Calvin Ridley
WR
ATL
8
55
Anthony Miller
WR
CHI
5
56
Dez Bryant
WR
FA
57
Sterling Shepard
WR
NYG
9
58
Rishard Matthews
WR
TEN
8
59
John Ross
WR
CIN
9
60
Taywan Taylor
WR
TEN
8
1
Aaron Rodgers
QB
GB
7
2
Russell Wilson
QB
SEA
7
3
Cam Newton
QB
CAR
4
4
Tom Brady
QB
NE
11
5
Drew Brees
QB
NO
6
6
Kirk Cousins
QB
MIN
10
7
Matthew Stafford
QB
DET
6
8
Matt Ryan
QB
ATL
8
9
Deshaun Watson
QB
HOU
10
10
Jimmy Garoppolo
QB
SF
11
11
Marcus Mariota
QB
TEN
8
12
Carson Wentz
QB
PHI
9
13
Andrew Luck
QB
IND
9
14
Alex Smith
QB
WAS
4
15
Philip Rivers
QB
LAC
8
16
Ben Roethlisberger
QB
PIT
7
17
Patrick Mahomes
QB
KC
12
18
Jared Goff
QB
LAR
12
19
Dak Prescott
QB
DAL
8
20
Blake Bortles
QB
JAX
9
21
Andy Dalton
QB
CIN
9
22
Derek Carr
QB
OAK
7
23
Mitchell Trubisky
QB
CHI
5
24
Case Keenum
QB
DEN
10
1
Rob Gronkowski
TE
NE
11
2
Travis Kelce
TE
KC
12
3
Zach Ertz
TE
PHI
9
4
Greg Olsen
TE
CAR
4
5
Delanie Walker
TE
TEN
8
6
Jimmy Graham
TE
GB
7
7
Jack Doyle
TE
IND
9
8
Jordan Reed
TE
WAS
4
9
Kyle Rudolph
TE
MIN
10
10
Evan Engram
TE
NYG
9
11
Trey Burton
TE
CHI
5
12
David Njoku
TE
CLE
11
13
Tyler Eifert
TE
CIN
9
14
George Kittle
TE
SF
11
15
Cameron Brate
TE
TB
5
16
O.J. Howard
TE
TB
5
17
Jared Cook
TE
OAK
7
18
Austin Hooper
TE
ATL
8
19
Ricky Seals-Jones
TE
ARI
9
20
Austin Seferian-Jenkins
TE
NYJ
11
21
Benjamin Watson
TE
NO
6
22
Eric Ebron
TE
IND
9
23
Charles Clay
TE
BUF
11
24
Vance McDonald
TE
PIT
7
1
Minnesota Vikings
DST
MIN
10
2
Los Angeles Rams
DST
LAR
12
3
Jacksonville Jaguars
DST
JAX
9
4
Philadelphia Eagles
DST
PHI
9
5
Houston Texans
DST
HOU
10
6
Denver Broncos
DST
DEN
10
7
Los Angeles Chargers
DST
LAC
8
8
Baltimore Ravens
DST
BAL
10
9
Carolina Panthers
DST
CAR
4
10
Green Bay Packers
DST
GB
7
11
New Orleans Saints
DST
NO
6
12
New England Patriots
DST
NE
11
13
Atlanta Falcons
DST
ATL
8
14
Pittsburgh Steelers
DST
PIT
7
15
Dallas Cowboys
DST
DAL
8
16
Kansas City Chiefs
DST
KC
12
17
San Francisco 49ers
DST
SF
11
18
Chicago Bears
DST
CHI
5
19
Seattle Seahawks
DST
SEA
7
20
Cleveland Browns
DST
CLE
11
21
Tennessee Titans
DST
TEN
8
22
Miami Dolphins
DST
MIA
11
23
New York Giants
DST
NYG
9
24
Cincinnati Bengals
DST
CIN
9
1
Stephen Gostkowski
K
NE
11
2
Justin Tucker
K
BAL
10
3
Jake Elliott
K
PHI
9
4
Greg Zuerlein
K
LAR
12
5
Harrison Butker
K
KC
12
6
Chris Boswell
K
PIT
7
7
Wil Lutz
K
NO
6
8
Robbie Gould
K
SF
11
9
Josh Lambo
K
JAX
9
10
Matt Bryant
K
ATL
8
11
Matt Prater
K
DET
6
12
Mason Crosby
K
GB
7
13
Ryan Succop
K
TEN
8
14
Graham Gano
K
CAR
4
15
Daniel Carlson
K
MIN
10
16
Steven Hauschka
K
BUF
11
17
Dan Bailey
K
DAL
8
18
Ka'imi Fairbairn
K
HOU
10
19
Adam Vinatieri
K
IND
9
20
Sebastian Janikowski
K
SEA
7
21
Chandler Catanzaro
K
TB
5
22
Brandon McManus
K
DEN
10
23
Cody Parkey
K
CHI
5
24
Phil Dawson
K
ARI
9