Leading up to the 2017 NBA Draft, we will be diving into what our Draft Models tell us about this year's top prospects. Our NBA Draft Models include the PNSP Model, NBA Role Probability Model, and Similarity Scores which each provide unique ways of evaluating college prospects. Our Prospect Profiles look at which stats positively/negatively affect NBA projections, unique data points from a player's stats, and relevant comparisons to current NBA players. You can find links to all of our Prospect Profiles in the header menu above (NBA –> NBA Draft –> Prospect Profiles). In this article, we look at Final Four sensation Zach Collins.
Zach Collins | PF/C | Gonzaga | Freshman
Draft Express #10 | Model 284 PNSP #7
Physical Measurements: 7'0″ | 230lbs | Wingspan: 7'1″
Top Player Comps: Stromile Swift, Chris Kaman, Ed Davis
| | | | | | | |
| --- | --- | --- | --- | --- | --- | --- |
| School | Age | PTS/40 | TRB/40 | AST/40 | STL/40 | BLK/40 |
| Gonzaga | 19.7 |  23.2 |  13.6 |  1.0 | 1.1 |  4.1 |
Model 284
Ratings
PNSP
All-Star %
Starter %
Bench %
Non-NBA %

83.6

 29.2%

 36.9%

 10.2%

 23.6%
Playing a limited role, but flashing big-time potential, Zach Collins exceeded expectations in his Freshman season at Gonzaga, and made valuable contributions to the 37-2 NCAA runner-up Bulldogs. Though Collins was a somewhat highly-touted prospect coming out of high school (RSCI #28 and McDonald's All-American), he was reduced to a backup role in both high school and college, playing behind Stephen Zimmerman (2015 RSCI #10) and Chase Jeter (2015 RSCI #14) at Bishop Gorman and then behind All-Conference players Przemek Karnowski and Jonathan Williams at Gonzaga. While our models do account for minutes played, it should be noted that Collins 17.3 min/gm is a small sample, and many of his high metrics may come back to the pack a bit in a larger sample.
College Production
Collins posted some truly elite metrics this season, with his 70.3% true shooting percentage ranking 4th in all of Division I, his 7.5 defensive box plus/minus ranking 11th, his 9.8% block percentage ranking 17th, and his 30.9 PER ranking 9th (though he may not technically qualify for all leaderboards depending on where you look). Collins had great metrics all around. The list below shows NCAA Freshman big men since 2010-11 with at least 60% true shooting percentage, a positive offensive box plus/minus, a defensive box plus/minus of at least 7, and at least 500 minutes played:
While much of this group is still working things out at the NBA level, that company speaks for itself. We have pointed out that Collins has a small sample of minutes played, but surprisingly he did play more minutes than 3 of the players highlighted above.
Similarity Scores
Embiid shows up again in Collins's top similarity scores, but the list as a whole is made up of average NBA players, who contributed more so on the defensive end of the floor, with limited offensive production. This is a bit surprising to see, as Collins's NBA potential has built more hype on his offensive skill set, and there are some questions about how his average length and lack of physicality will translate. It is also interesting that Collins does not have many highly similar players (most prospects have 5-10 players with similarity scores above 98), which does make some sense, as there have not been too many 7-footers who can step out and shoot 3s. The story here could be that there are simply not many players to come out who have fit the same mold as Collins.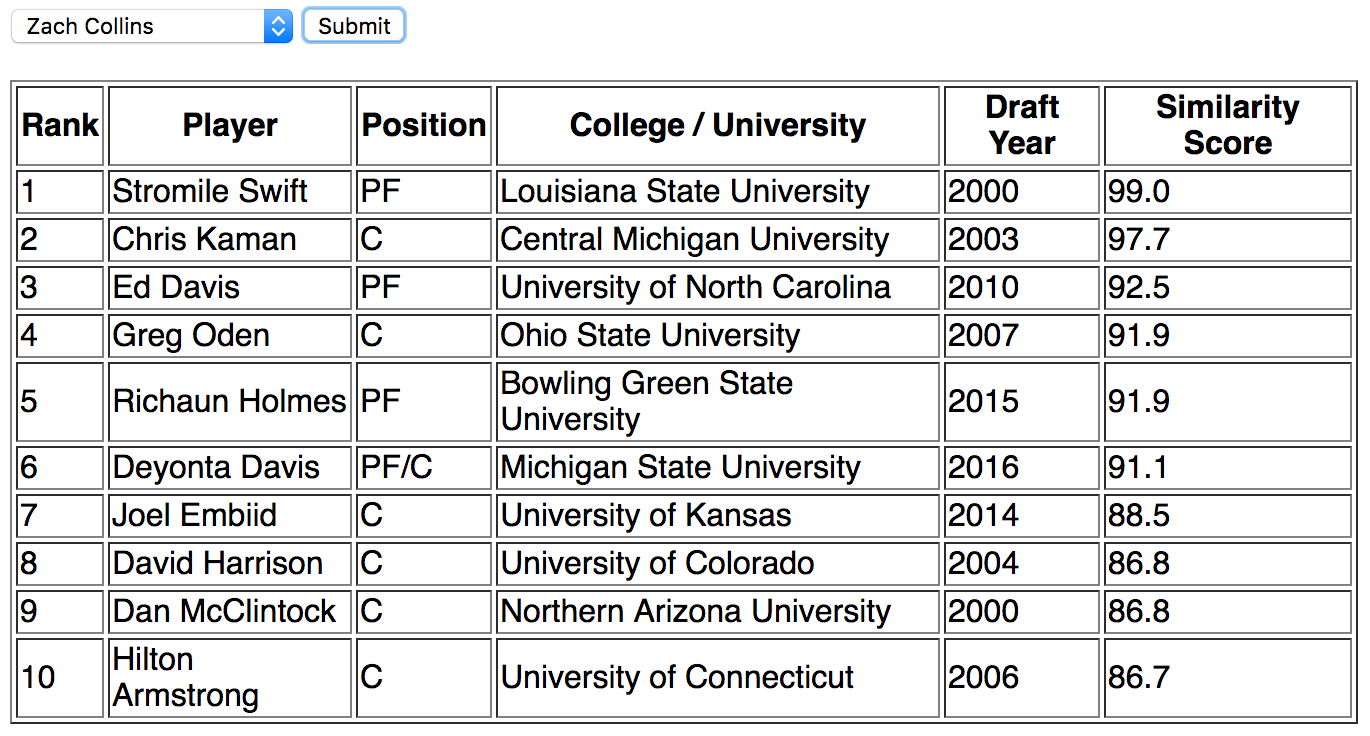 These defense-heavy comparisons coupled with his elite DBPM in college and his great mobility for a 7-footer suggest he may have more defensive upside than commonly perceived.
NBA Projection
Collins's PNSP score of 83.6 ranks 7th among the 2017 class, and his 29.2% All-Star probability ranks 8th, clearly illustrating that the models are high on him overall. That said, Collins also has one of the higher non-NBA probabilities at 23.6%, fitting the same high risk/high reward mold as we highlighted in Dennis Smith Jr's prospect profile. Among lottery-level players, only Jarrett Allen (49.2%), Justin Jackson (29.6%), Dennis Smith Jr.(26.6%), and Luke Kennard (25.1%) have higher non-NBA probabilities. This high non-NBA probability is driven by his low minutes played.
Most notably, Collins projects as an elite 3-point shooter relative to other big men in terms of both volume and accuracy. Interestingly, Collins projects below average in terms of 2-point FGs made, but well above average in terms of 2-point FG%. Together, these 2 and 3-point projections suggest that Collins will be an efficient scorer inside, but will spend plenty of time outside the arc, presumably playing a stretch-4/5 role. These projections are driven by Collins's excellent shooting percentages at Gonzaga (note that 3-point stats are adjusted prior to modeling for big men with few attempts ):
74.3% free throw percentage on 148 attempts
67.2% on 2-pointers on 186 attempts
47.6% on 3-pointers on only 21 attempts
Collins projects as an above average rebounder for an NBA big man, but below average in terms of assists and steals. Though he had a great block percentage at Gonzaga, he only projects as an average NBA rim protector due to his average length.
Conclusion
Zach Collins has plenty of upside as an NBA big man. His ability to stretch the floor with potentially elite outside shooting coupled with his defensive upside make for an extremely intriguing prospect in today's NBA. There are always risks involved with project big men, especially one with a limited sample of playing time and a less-physical playing style, but our models view Collins as a clear-cut top 8 player in this draft, with perhaps the best all-around potential of any big man.