Leading up to the 2017 NBA Draft, we will be diving into what our Draft Models tell us about this year's top prospects. Our NBA Draft Models include the PNSP Model, NBA Role Probability Model, and Similarity Scores which each provide unique ways of evaluating college prospects. Our Prospect Profiles look at which stats positively/negatively affect NBA projections, unique data points from a player's stats, and relevant comparisons to current NBA players. You can find links to all of our Prospect Profiles in the header menu above (NBA –> NBA Draft –> Prospect Profiles). In this article, we look at Minnesota Timberwolves selection Justin Patton.
Justin Patton | C | Creighton | Freshman
Draft Express #19 | Model 284 PNSP #22 | Drafted #16 by Minnesota
Physical Measurements: 6'11.25″ | 229lbs | Wingspan: 7'3″
Top Player Comps: OG Anunoby, Brandan Wright, Marreese Speights
| | | | | | |
| --- | --- | --- | --- | --- | --- |
| Age | PTS/40 | TBR/40 | AST/40 | STL/40 | BLK/40 |
| 20.0 | 20.5 | 9.8 | 1.9 | 1.4 | 2.3 |
Model 284
Ratings
PNSP
All-Star %
Starter %
Bench %
Non-NBA %

63.7

 22.3%

 55.0%

 9.1%

 13.5%
After taking a redshirt season to prepare for the transition to Division I basketball, Justin Patton came out of seemingly nowhere to crush expectations at Creighton en route to the Big East Freshman of the Year award. Although their season fizzled out after losing point guard Maurice Watson Jr to a torn ACL, there were plenty of bright spots for Patton individually
Overall, Patton has some great statistical marks, including a 25.3 PER, 67.1% true shooting percentage, and a box plus/minus of 10.6 that ranked in the top 30 in all of Division I (+4.4 offense, +6.2 defense). Given these marks, it is not surprising that our models like Patton, giving him a 63.7 PNSP rating and high Starter & All-Star probabilities. With that said, there are still some concerning areas of his game.
In terms of shooting, Patton's was either unreal or horrible depending on how close he was to the basket. Patton shot an excellent 80.8% at the rim (per Hoop-Math) but shot an atrocious 32.9% on 2-point jumpers (73 attempts). Patton also attempted just 15 three-point shots on the season and stroked it at 51.7% from the free throw line (87 attempts). Considering all of these marks, there should be serious concerns about Patton's ability to develop a solid outside shot in the NBA. Our models project him as an average NBA shooter for a center (much different than an average NBA shooter at the guard position), which translates to limited outside shooting potential.
While Patton theoretically has the size, length, and athleticism to be an NBA-caliber rim protector, his mediocre marks at Creighton (1.4 blocks/game and 5.9% block percentage) indicate he has some work to do in order to get there. Our models project him as an average NBA rim protector, but above average in terms of steals. Patton has good coordination for a 7-footer, so, given this coupled with his good steal projection, athleticism, and length, there is certainly some defensive potential there.
Justin Patton's player comparisons are made up of average NBA players, with the exception of DeAndre Jordan, who ranks just 10th: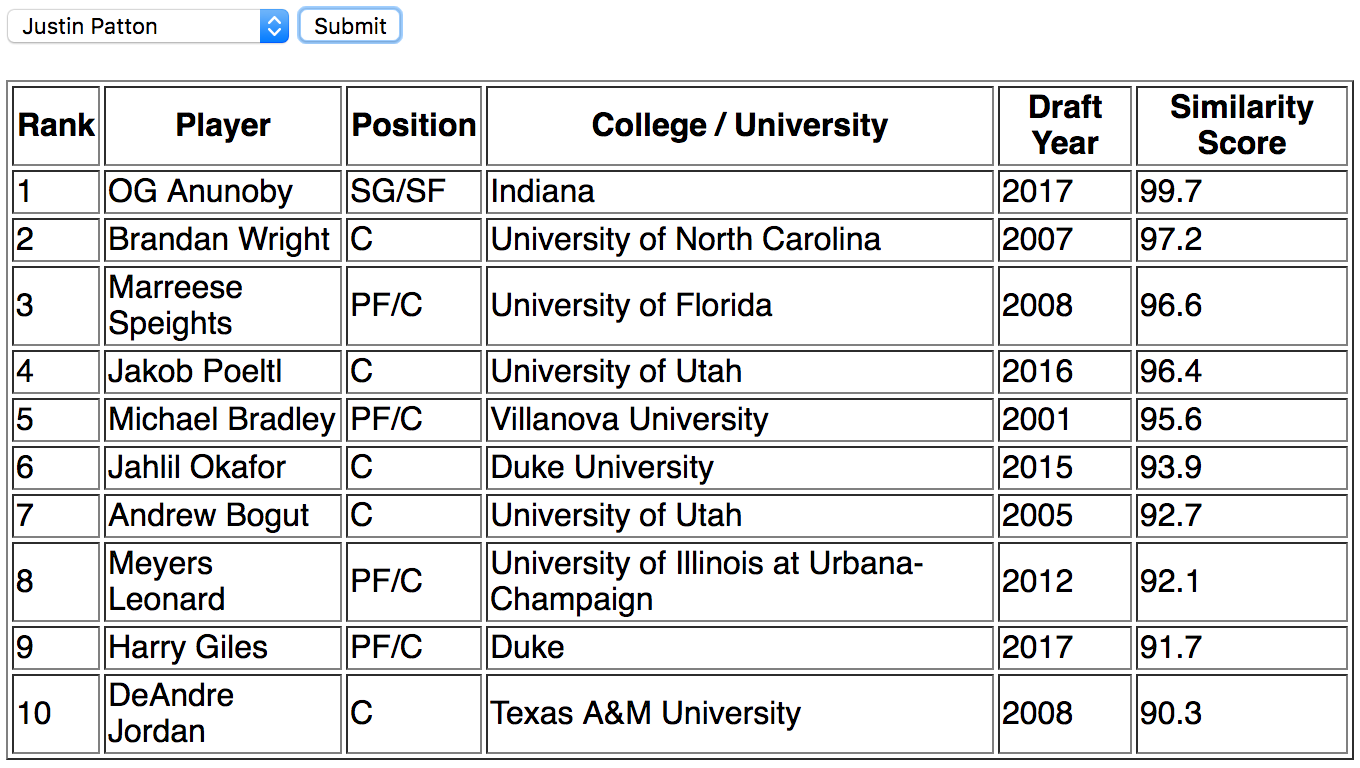 It is interesting that these comps do not point to much upside, while our NBA Role Probability model gives him the 2nd highest probability of being a starter in this year's draft class (55.0%), the 12th highest All-Star probability (22.3%), and very low bench & non-NBA probabilities… Patton's high All-Star probability is driven by his efficient scoring, relative youth, potential to hit threes, and high amount of steals for a center. If Patton is able to develop his outside shooting, he has the potential to be a very good offensive player in the NBA.
To further examine Patton's true ceiling, here are the Freshmen big men from power conferences to finish with a box plus/minus above 10, a true shooting % above 60, and less than 25 three-point attempts. While there are some All-Star caliber players on this list, notice that Patton does not measure up to the top dogs on the list in terms of rebounds or blocks.
Overall, Patton is still relatively young and has shown flashes of a budding offensive game. Our models are relatively high on him and do not project him extremely poorly in any areas of the game. He projects best in scoring around the rim, assists, and steals. Here is a list of players with a PNSP between 60 and 70 and probability of being a starter or better of at least 70%:
Fit on Minnesota
Given our NBA projections for Patton, it will be interesting to see exactly how he is utilized in Minnesota. He isn't necessarily a great fit next to Karl-Anthony Towns, as he currently projects best around the rim. Given his rawness, it is difficult to see him playing serious minutes behind both Towns and Gorgui Dieng. And Thibs will probably only play him for about 3 minutes per game anyway, so don't expect much this season.