The first weekend of March Madness 2018 is in the books, and it was wild. When all was said and done, the same number of 11-seeds made the Sweet 16 as 1-seeds. Half of teams seeded 1-3 were knocked out in these first two rounds. And of course, the tournament saw a 1-seed exit in the first round for the first time ever (at least in the men's tournament). It's hard to imagine anyone's bracket coming out of a weekend like this looking good. How bad was it? I dug into Model 284's own March Madness contest to find out.
First, let's look at your picks during the crazy round of 64. The three games which threw you off the most were Marshall over Wichita State, Buffalo over Arizona, and of course, UMBC over UVA. Somehow, none of those games lost everybody. Users Agoody24 and 24habsrule somehow picked UMBC over Virginia. I've been told that if it's stupid and it works, it ain't stupid, but these two users really pushed that philosophy to its limit. Both users picked UMBC to make the Sweet 16, but alas, the Retrievers' luck didn't last that long.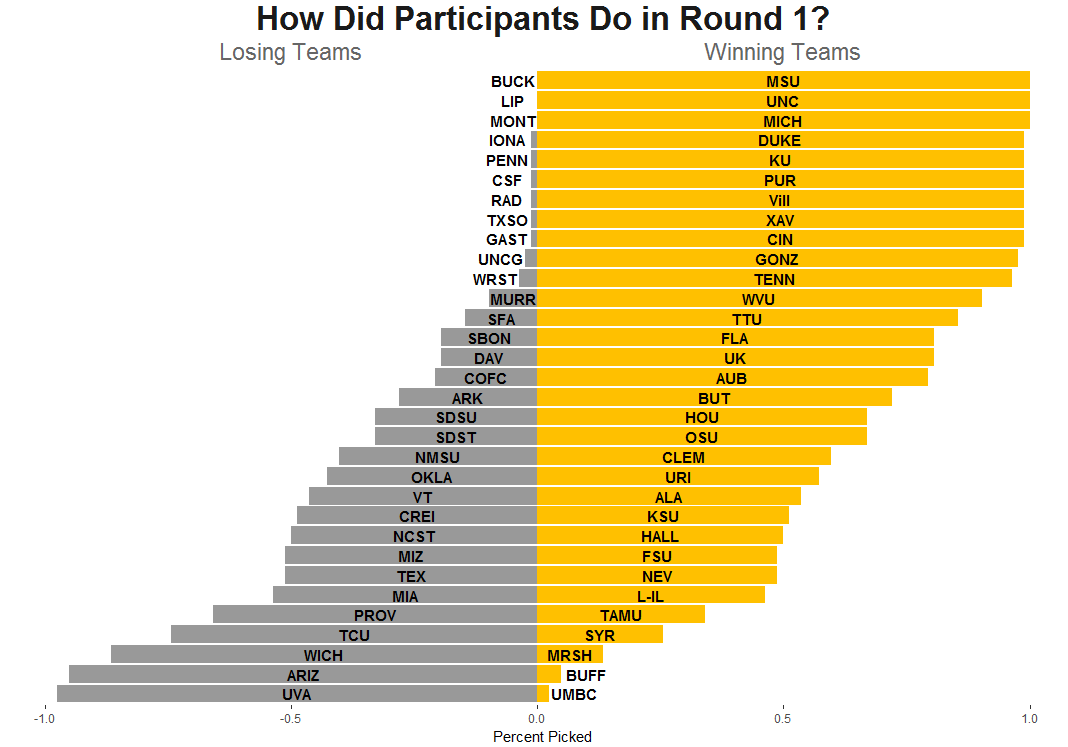 You guys submitted 82 brackets to our contest (including our own Model), and more than half of you lost your champion in the first weekend. The plurality of you who picked Villanova can rest easy for a few days, but the next three most common choices (Virginia, North Carolina, and Michigan State) have all been knocked out. So has Murray State, a fact which you wouldn't think would be relevant in a paragraph like this. But user 24habsrule, one of our UMBC oracles, had them pegged to win it all. You win some, you lose some, I guess. For the record, the Model's pick, Purdue, is still alive, but a little worse for the wear: their center Isaac Haas fractured his elbow during Friday's game and will miss the rest of the tournament.
Here's a full breakdown.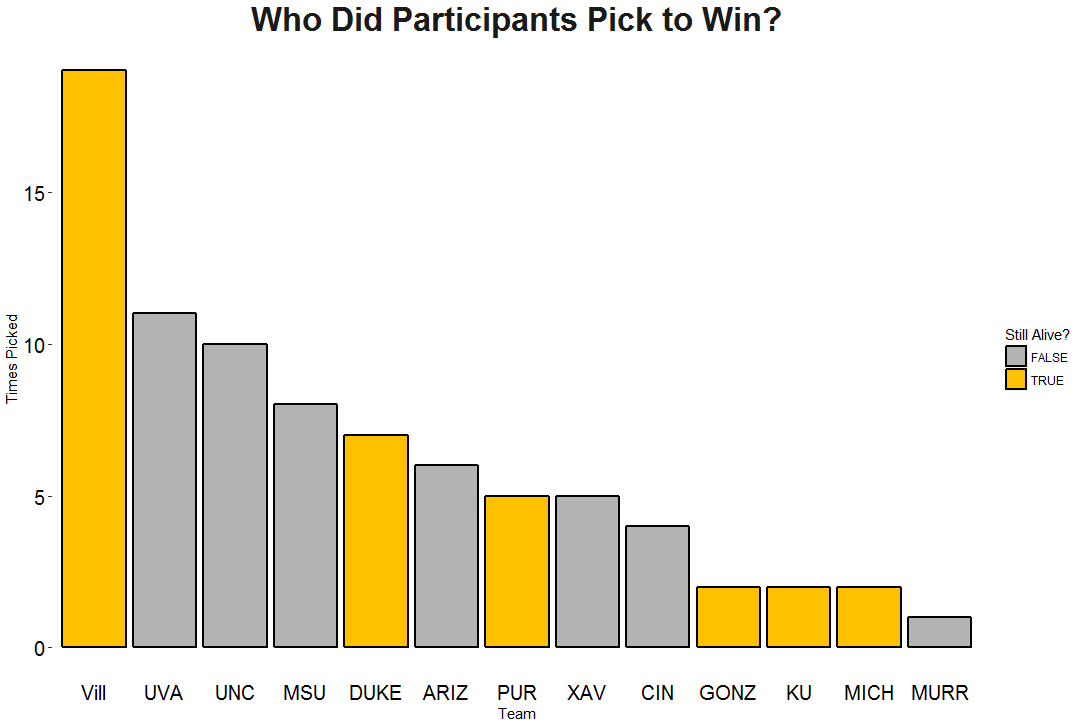 Over half of your championship game picks (champs and runners-up combined) lost in the first game too. The Model wasn't so lucky with its second-place pick, as North Carolina lost to Texas A&M in the second round. Here are all the teams you thought would make the final.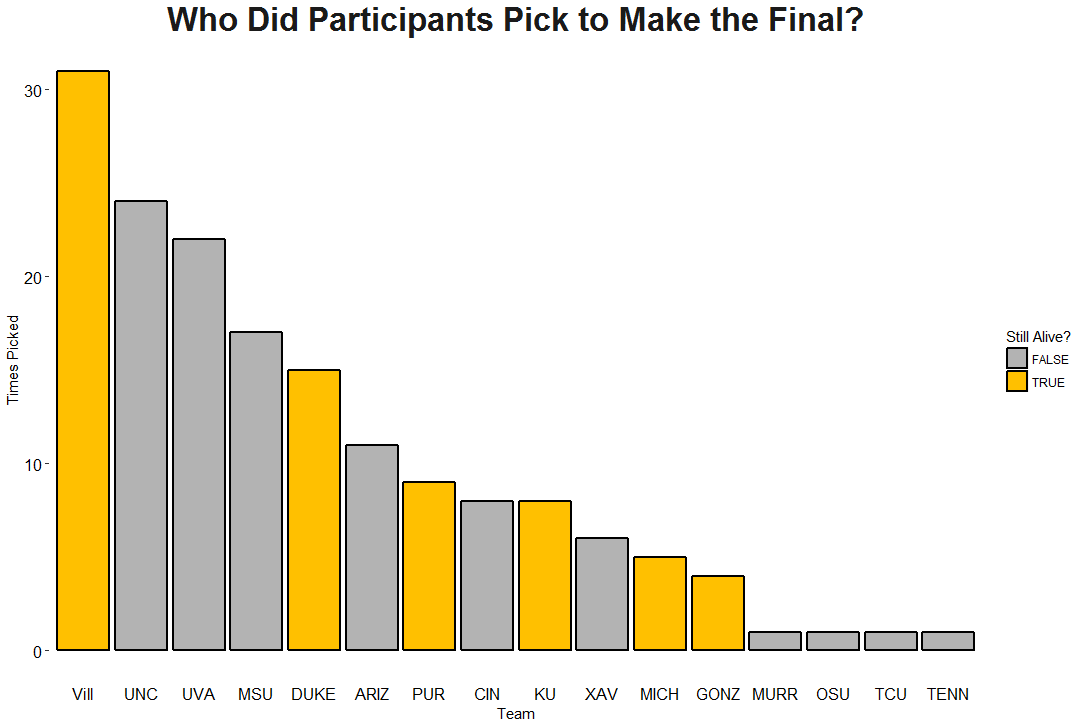 No one picked more than 11 of their Sweet 16 teams correctly. Only one user, ESPNFAN5603293000 with his bracket Turbo Power, even got that many right. Considering the chaos, 11 is an accomplishment, though his championship pick (UNC) is already out of the picture. The Model isn't far behind ESPNFAN, correctly guessing nine Sweet 16 teams.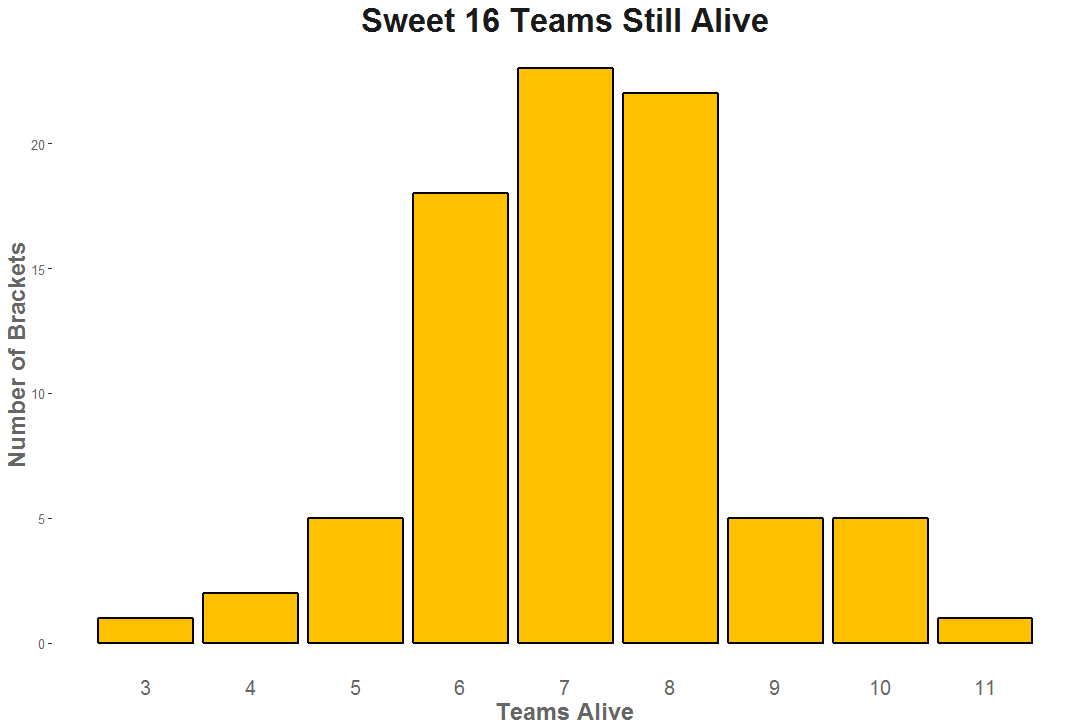 Looking ahead to the Elite 8, perfection is out the window, but a few users have a chance to do pretty well. Seven of you could get as many as six of your Elite 8 teams correct. The best the Model could do is five. On the flip side, our friend 24habsrule has already seen every one of his Elite 8 teams knocked out. Habs, if you're reading this, it's alright, buddy! You picked the first 16-over-1 upset in Men's NCAA history. No one can take that away from you.
Interestingly, no one's final four is intact. 19 of you could score three of your final four picks. That would give you a leg up on the Model, which has already seen two of its Final Four teams knocked out.
A perfect bracket would score 1920 points―320 points per round for six rounds. If Birty Dirds and his bracket Garrit Otten is perfect from here on out, he'd score an impressive 1510, the highest possible score of anyone in the pool. The Model's ceiling is 1250 points if everything goes its way. But as we've seen, things rarely do, so anything could happen in these next four rounds.
We'll see how it all goes down starting on Thursday! May the odds be ever in your favor.