Leading up to the 2017 NBA Draft, we will be diving into what our Draft Models tell us about this year's top prospects. Our NBA Draft Models include our PNSP Model, NBA Role Probability Model, and Similarity Scores which each provide unique ways of evaluating college prospects. Our Prospect Profiles look at which stats positively/negatively affect NBA projections, unique data points from a player's stats, and relevant comparisons to current NBA players. You can find links to all of our Prospect Profiles in the header menu above (NBA –> NBA Draft –> Prospect Profiles). In this article, we explore one of the more highly debated draft prospects, Lonzo Ball.
Lonzo Ball | PG/SG | UCLA | Freshman
Draft Express #2 | Model 284 PNSP #4
Physical Measurements: 6'6″ | 190lbs | Wingspan: 6'7″
Top Player Comps: Raymond Felton, Nick Calathes, Dennis Smith Jr.
| | | | | | | | |
| --- | --- | --- | --- | --- | --- | --- | --- |
| Year | School | Age | PTS/40 | TRB/40 | AST/40 | STL/40 | BLK/40 |
| 2016-17 | UCLA | 19.6 | 16.6 | 6.8 | 8.7 | 2.1 | 0.9 |
Model 284
Ratings
PNSP
All-Star %
Starter %
Bench %
Non

-NB

A %

91.0

 83.5%

 12.7%

 0.1%

 3.6%
Lonzo Ball led one of the most prolific offenses of all time in 2016-17, as the UCLA Bruins set records on their way to leading the NCAA in FG%, assists, and points per possession. Lonzo rejuvenated the UCLA brass by bringing fun, unselfish, 3-point shooting basketball to the Bruins, much in the same way Steph Curry did in Golden State. As a Freshman, Lonzo tallied 10 double-doubles and only had three games in which he did not make a 3-pointer. So it shouldn't come as a surprise that the 6'6″ guard receives a 91.0 PNSP rating.
One notable (potential) flaw in Lonzo's game is his low free throw shooting percentage (67.3%) relative to his high 3-point shooting percentage (41.2%). This phenomenon is something we also see in Markelle Fultz, although Lonzo has a larger sample of threes because he played 11 games more than Fultz. The table below should look familiar if you read our prospect profile on Markelle Fultz, but again this table shows players that made 40 or more 3s at a greater than 40% clip, while shooting lower than 70% from the free throw line:
None of these players became (or have yet become) great NBA 3-point shooters, but all have shown an ability to knock-down 3-pointers at an adequate rate. By our Models, Lonzo projects as an above-average shooter, but, like Fultz, don't expect elite 3-point shooting out of this big baller. Other than a below average projected free throw percentage, Lonzo projects as a plus player in every NBA box score statistic.
Interestingly, Lonzo and Fultz have many similar statistical measures, albeit having vastly different looking games. One area where Lonzo and Fultz do differ statistically is in the mid-range game, where Fultz took plenty of shots while Lonzo took nearly zero mid-range jumpers last season. Per hoop-math, Lonzo took 7.6% of his shot attempts from the mid-range while Fultz took 45.8%. In the modern day NBA, the mid-range shot has become obsolete as it has been deemed an inefficient play, but having that ability to generate open looks in the mid-range can still have value. This is not necessarily a knock on Lonzo, as one could also argue that Lonzo created more efficient looks, but simply a difference between Fultz's game and Lonzo's.
In addition to an extremely high PNSP score, Lonzo also has an incredibly high All-Star probability. Here are the top 6 (including 2017 Draft Prospects) All-Star probabilities in the last 20 years:
For players with a high PNSP rating and/or All-Star probability, we often see that there are not many similar players to compare them to (as was the case with Fultz). Surprisingly, Lonzo does have some higher similarity scores. While not an extremely enticing group of player comps, Lonzo draws comparisons to players that have the ability to distribute the ball, knock down a jumper, and get to the rack. A lot of these guards fit the style of a shot maker/gunner rather than a shooter/distributor. Most scouting perspectives do not describe Lonzo in that manner, but nonetheless, it is an interesting group of player comps that have had varying levels of success in the NBA.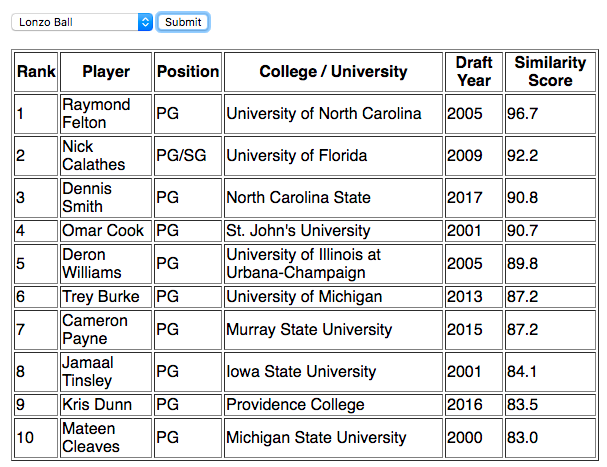 While there has been much debate about Lonzo Ball and how his funky shooting mechanics and slender frame will translate to the NBA, from a purely statistical perspective, he projects exceedingly well. Lastly, as previously noted, the Models are not able to directly account for off-court issues in a player. So, we do not currently have access to a LaVar Ball indicator variable, as there is insufficient data. Anyway, by our models, Lonzo is an elite prospect worthy of a top pick, who has plenty of high-end potential.