Below is our Model 284 consensus bracket for the 2023 NCAA Tournament. As you will see from our Game-by-Game Predictions and Tournament Simulation results, our bracket does not necessarily advance our model's predicted winner for every single game. Rather, we use a combination of (1) our model's individual game predictions, (2) our tournament simulation results, (3) injuries / other factors not captured by our models, and (4) consideration of public picks – to make sure we are differentiating our bracket enough from the most popular choices. For those interested, here is a bracket filled out purely using raw model output.

Bracket Results After Round One: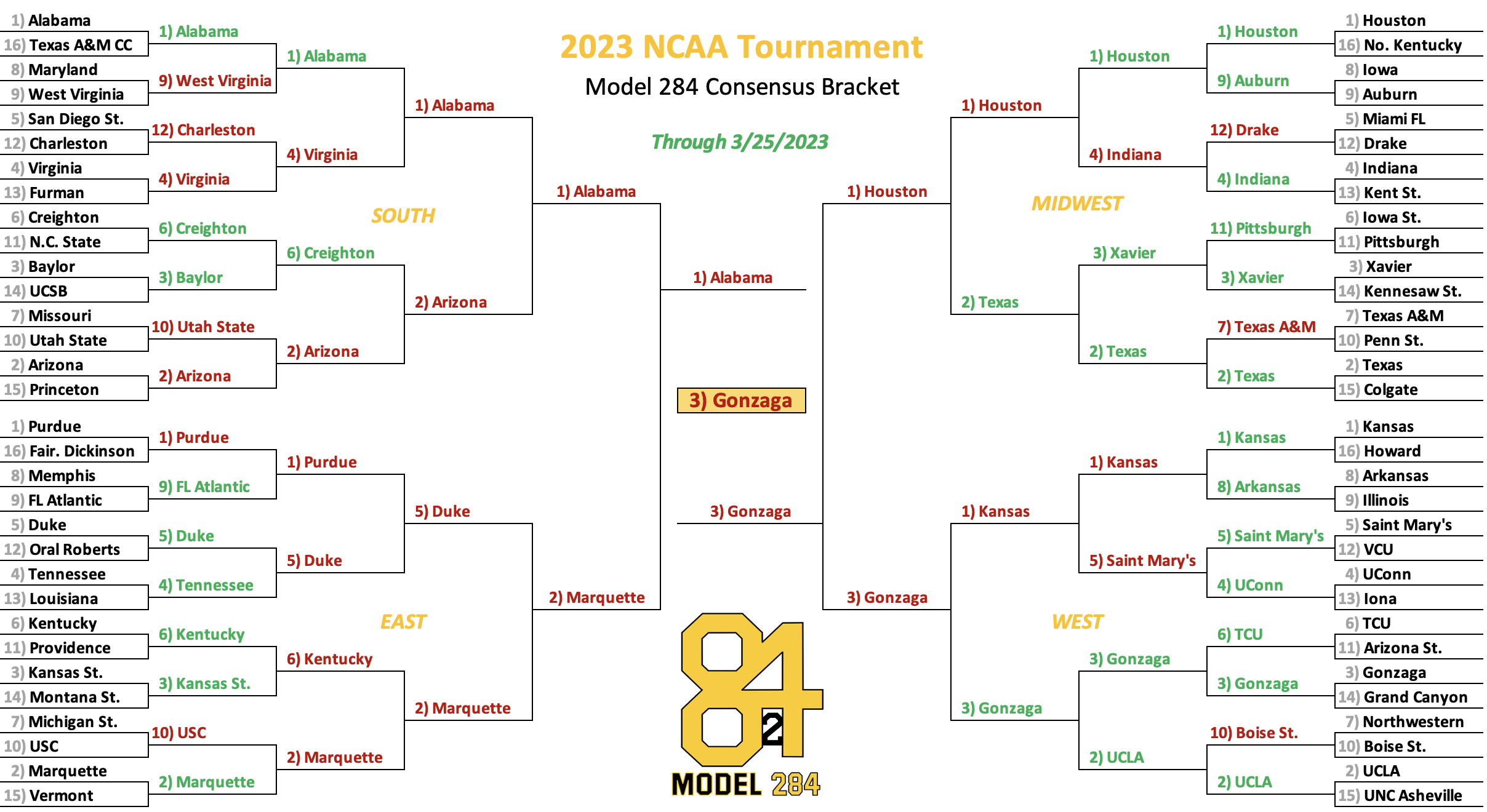 Stay tuned to Model 284 throughout the tournament for updated predictions on every game!
Historical Bracket Accuracy
Below is a summary of how our published brackets have performed in previous tournaments (2017-present). We have been utilizing these models dating back to the 2014 tournament, but do not have older predictions documented on the site.
Year
ESPN
Score
R1
R2
R3
R4
R5
R6
Predicted
Champ
Actual
Champ
2017
840
28
8
2
2
1
0
Arizona
UNC
2018
570
23
9
2
1
0
0
Purdue
Villanova
2019
1020
24
13
5
2
1
0
Gonzaga
Virginia
2020
–
–
–
–
–
–
–
–
–
2021
1070
21
7
4
3
2
0
Gonzaga
Baylor
2022
510
21
9
3
0
0
0
Gonzaga
Kansas
2023
440
22
7
2
0
0
0
Gonzaga
UConn
Avg
875
23.2
8.8
3.0
1.3
0.7
0.0
–
–